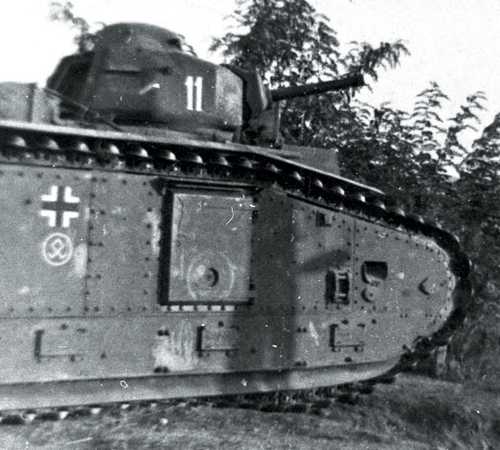 Far from Paris - somewhere in the Balkans.
The 7th SS Volunteer Mountain Division, "Prinz Eugen" was highly regarded among SS antipartisan units, but performed poorly when pitted against frontline Soviet units toward the end of the war. Part of the reason for this lay in its particular training. Another reason was its heavy equipment, which was in short supply, often captured non-German and (in consequence) not always state-of-the-art, or appropriate to the Division's needs. This appears to be an example - a French-built Char-B. Apart from the Balkenkruez, note the Odal/Othala ("family/kinship/brotherhood") rune, emblem of "Prinz Eugen" on the side of the tank. The Division was assigned a number of different types of captured French tanks. Some were undoubtedly useful for mountain division operations; but is is hard to imagine that this slow, unreliable, obsolete type was terribly easy to use in the conditions of the Balkans. Best regards, JR.
---
This is a companion discussion topic for the original entry at
https://www.ww2incolor.com/gallery/german-armored-forces-vehicles/36906/far-from-paris-somewhere-in-the-balkans.