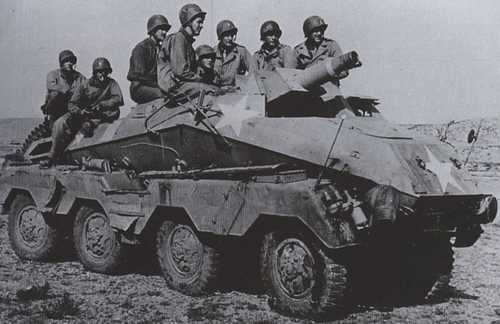 Sd Kfz 233 under new management ..
US soldiers take a ride in captured German Sd Kfz 233 heavy armoured car, North Africa, 1943. These vehicles were relations of the Sd Kfz 231, but with substanial adaptations to allow the 75cm. KwK37 "short" 75mm gun (as used on early Pz Kpfw IV tanks), with very limited traverse, to be mounted. A relatively rare vehicle (total production run of 119 between December 1942 and October 1943), these vehicles were used on the Ostfront and in North Africa, by armoured reconaissance units. Their rugged qualities and good hitting power in close infantry support made them popular with the Panzerarmee Afrika - the original owners of this example, I think. Best regards, JR.
---
This is a companion discussion topic for the original entry at
https://ww2incolor.com/gallery/us-army/30917/sd-kfz-233-under-new-management-..